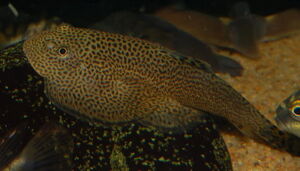 Beaufortia kweichowensis aka Chinese hillstream loach, Hong Kong pleco, butterfly hillstream loach, or Chinese sucker fish is a popular aquarium species native to the rivers of China, and other parts of the Asian continent.
Description
Edit
Beaufortia kweichowensis primarily inhabits the fast flowing highland and inland rivers of China.
Captive Care
Edit
Ad blocker interference detected!
Wikia is a free-to-use site that makes money from advertising. We have a modified experience for viewers using ad blockers

Wikia is not accessible if you've made further modifications. Remove the custom ad blocker rule(s) and the page will load as expected.